Happy Monday guys, finally back at work, back to my daily routine or like my new friend said to me - back to my lifestyle! It is actually not a busy day so I decided to get on with the business side of 1511th and while at it, I came across this arcticle on
Instyle
which I could not resist sharing, click on the link to read the full article. It is a peek....really a fraction of a peek into some stars' closets, here are a few of my favourites.
Christina Aguilera
shows us one out of the two
closets in her home in LA. I nearly missed her little man standing there.
First stop: Shoes. "Everything on my shoe wall is grouped by designer—Louboutin, McQueen, YSL—all in their own little family," says Aguilera. "And there's room for boots up top." The hyper-organized singer also has zones for her jeans, jackets, coats, skirts, sweaters and jewelry in the ultra-glam room, complete with a chandelier and leopard-print rug.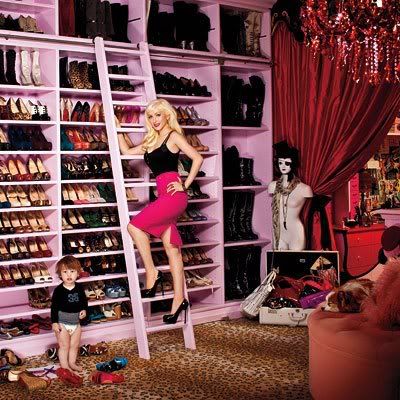 Olivia Wilde transformed guest room and sitting room of their Venice, Calif. townhouse into a walk-in closet and a refined, comfortable office for the actress - This is my fav so far, it is so me!

A perfect home for her many red-carpet dresses and favorite red shoes. The walk-in's decadent centerpiece is a 19th-century mirrored vanity (flanked by two mirrored chests from Anthropologie). "It's from the South of France and has never been restored," she says.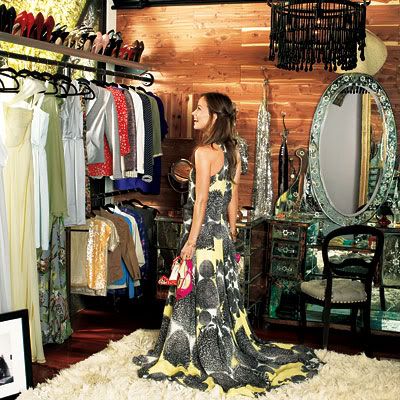 Eva Longoria Parker
this is as cute as her, so her!
The 133-square-foot master closet in Eva Longoria Parker's L.A. home is full of gorgeous gowns, shoes, shirts—and a coveted Hermes hot-pink crocodile Birkin bag. Taking a glance through her impressive shoe collection she calls her Christian Louboutin espadrille wedges "a beautiful pain" (she sprained her ankle wearing them in Paris) and says she has "always dressed for comfort", which is easily confirmed by the 50 pairs of jeans and more than one pair of Ugg boots. "Tony loves me in Uggs. He says, 'Wear your Hugs, honey'—that's how he pronounces it with his French accent."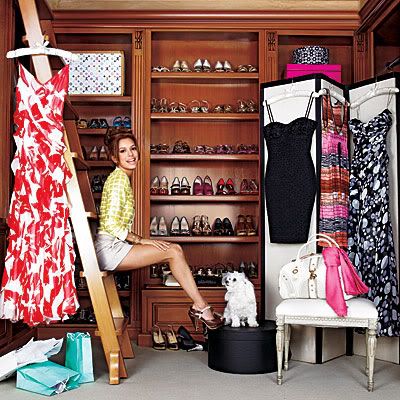 Nicky Hilton also has two "very organized" couture-filled walk-in closets

Her shoe collection, which isn't raided by her friends or family because of her size 10.5 foot, is organized by designer."My Manolos are together, Chanels are together, Louboutins together." Besides the 200 or more handbags she owns, one of Hilton's prized pieces is a Roberto Cavalli beaded butterfly minidress that the designer gave her for her 24th birthday. "I was in Milan and he told me to pick whatever I wanted from his showroom!" she says.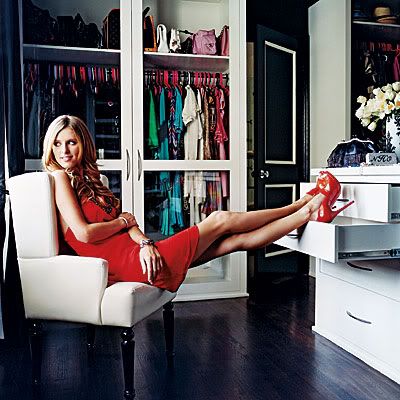 Kimora Lee Simmons
(I realllllllly, really love her!). She combined two bedrooms in her 49,000-square-foot Saddle River, N.J. home to create her expansive walk-in closet.
"I wanted my closet to look like a boutique," she says. It contains over 500 pairs of jeans, 35 custom-made Hermes Birkin bags and an extensive collection of jewelry. The closet, which is decorated with leopard-print carpet, marble columns, a mini-bar, and flat screen tvs, only holds some of her clothes—the overflow is stored in other bedroom closets. Everything in her closet is photographed and stored on her computer so she can easily put together outfits, "I'm very neurotic is what my closet says about me," she says. "It's always in great order."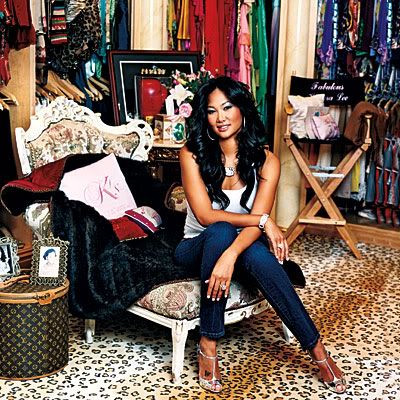 Mariah Carey
has an enormous, climate controlled closet in her 12,000 square foot Manhattan triplex. However, the vast space still can't contain all of Mariah Carey's shoes.
"I have about 1,000 pairs of shoes. But lots are in storage," she says. Carey designed the sweeping space with gold-leaf and bleached-wood floors. "Like Louis Vuitton luggage," she says, "it will only look better over time." Few girls would be able to fill the closet, which is arranged by color and material, as well as in event-specific groupings. "If someone else ever bought it [the apartment], she'd have to be a total diva!"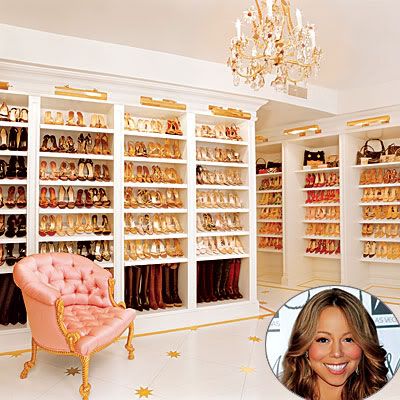 Paula Abdul has an impressive walk-in closet in her 5,000 square foot Mediterranean style home in the San Fernando valley. (This looks alot like my mum's back when I was young..er)

All her outfits and coordinating accessories are numbered with tags so she can easily pack for trips and events. Her impressive shoe collection is made up mostly of high-heels—"I always wear heels unless I'm working out," says Paula Abdul, who is just over five feet. Even with all of those shoes the former choreographer claims, "A comfortable pair of jeans, a great belt, and a leather jacket is all I need."

Jamie-Lynn Sigler's 200-square-foot closet was created by Anthony's Custom Closets in Long Island and the new setup helps keep her designer dresses, bags, countless pairs of Genetic jeans, and over 75 pairs of shoes organized.

"For years I have not been able to find anything in my closet," says Sigler. "Now I see all my clothes shoes and accessories, even some stuff I completely forgot I had .. with the tags still on them!"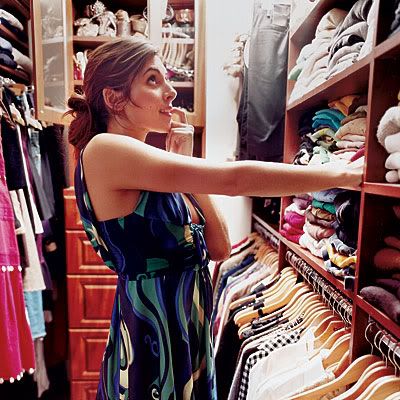 Instyle also has the Ultimate WardrobeWorksheet to download. Click
here
to try it out, I will as I have some clothes at the back of my closets and under my bed that I keep forgetting I have. This actually comes in handy especially at this time of the year when you have the urge to look fab everyday and wear all your clothes...lol
Let me know how it goes.